The Civitan Beach House is a "slice of Old Florida" built in 1937 on the white sand beaches of the Gulf of Mexico in Indian Shores, Florida.  It may be reserved for weddings, celebrations of life, graduation parties, meetings or other events you desire.
When you rent the Beach House you get space for up to 165 guests.  There is 2100 sq. feet in the main room.  We also have a dance floor that is 34'x20'.  There are (14) 60" round tables and (9) 8' rectangular tables.  We have over 130 chairs that are also for your use inside the building.
You can use any Event Coordinator, caterer or bartending service you want.  We have an Event Coordinator that will work with whomever you choose for showings, access the day of the event and any other needs.
If you choose our Event Coordinator, additional needs such as table cloths, chair covers, flowers, setup services etc. are available from her.  You can contact her here (727) 754-3079 or atailoredevent@ymail.com.
Client Rates for Venue Rental only:
Monday – Thursday: $950
Friday & Sunday: $1550
Saturday & Holidays: $2050
New Rates go in to effect on 01/01/24.  To get the current rate we must have the contract and down payment in hand no later than midnight of 12/31/23.  Any contract and down payment received on 01/01/24 or later will be under the new rates.
Monday – Thursday: $1150
Friday & Sunday: $1600
Saturday & Holidays: $2100
Civitan Beach House Floor Plan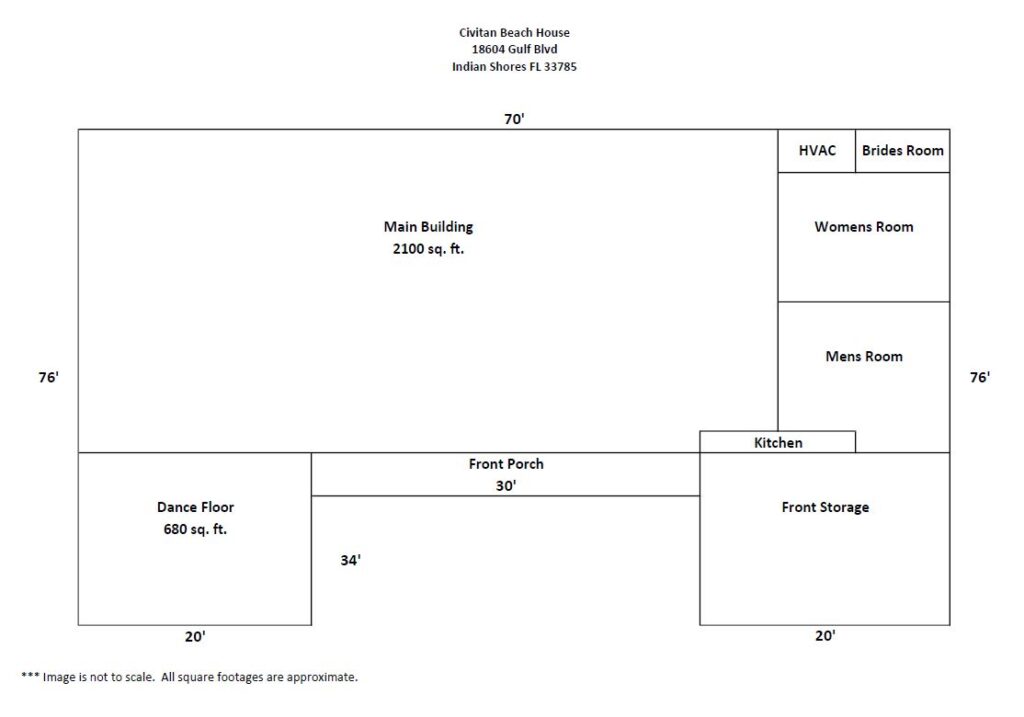 Designated Holidays (Day of)
New Year's Day
Valentine's Day
St. Patrick's Day
Easter
Memorial Day
Labor Day
Thanksgiving
Christmas Eve
Christmas Day
New Year's Eve
Sunday Prior to:
ML King Birthday
President's Day
Columbus Day